A weekday early education option at Flint River
River Care is a great learning opportunity for your child and a worry-free time for parents. It allows parents of children ages 18 months to 4 years to have the time they need every week to get things done, or to simply begin introducing their children to the world around them.  We offer classes from 9:00 am to 1:00 pm with two, three, and four-day-a-week programs available that follow the Madison County School schedule.
How does this work?
River Care  is divided into four classes: Toddlers (18 to 23 mos.), 2-year-olds, 3-year-olds, and 4-year-olds.
Our Toddler class is staffed with experienced teachers who make sure each child is cared for in a loving, nurturing environment.  Classroom activities include singing, story time, and exploring our world through play with age appropriate activities.
The format for our 2s and 3s classes focuses on language development, building self-esteem, awareness of surroundings, getting along with one another, and promoting fine and large motor skills.  Our students have fun with music and movement as well as creative art that emphasizes the process, not the product. 
Our 4-year-old class is an early childhood program in which children combine learning with play in a program run by dedicated teachers. We are committed to providing a well-balanced first step into education that prepares the student to start Kindergarten the following year.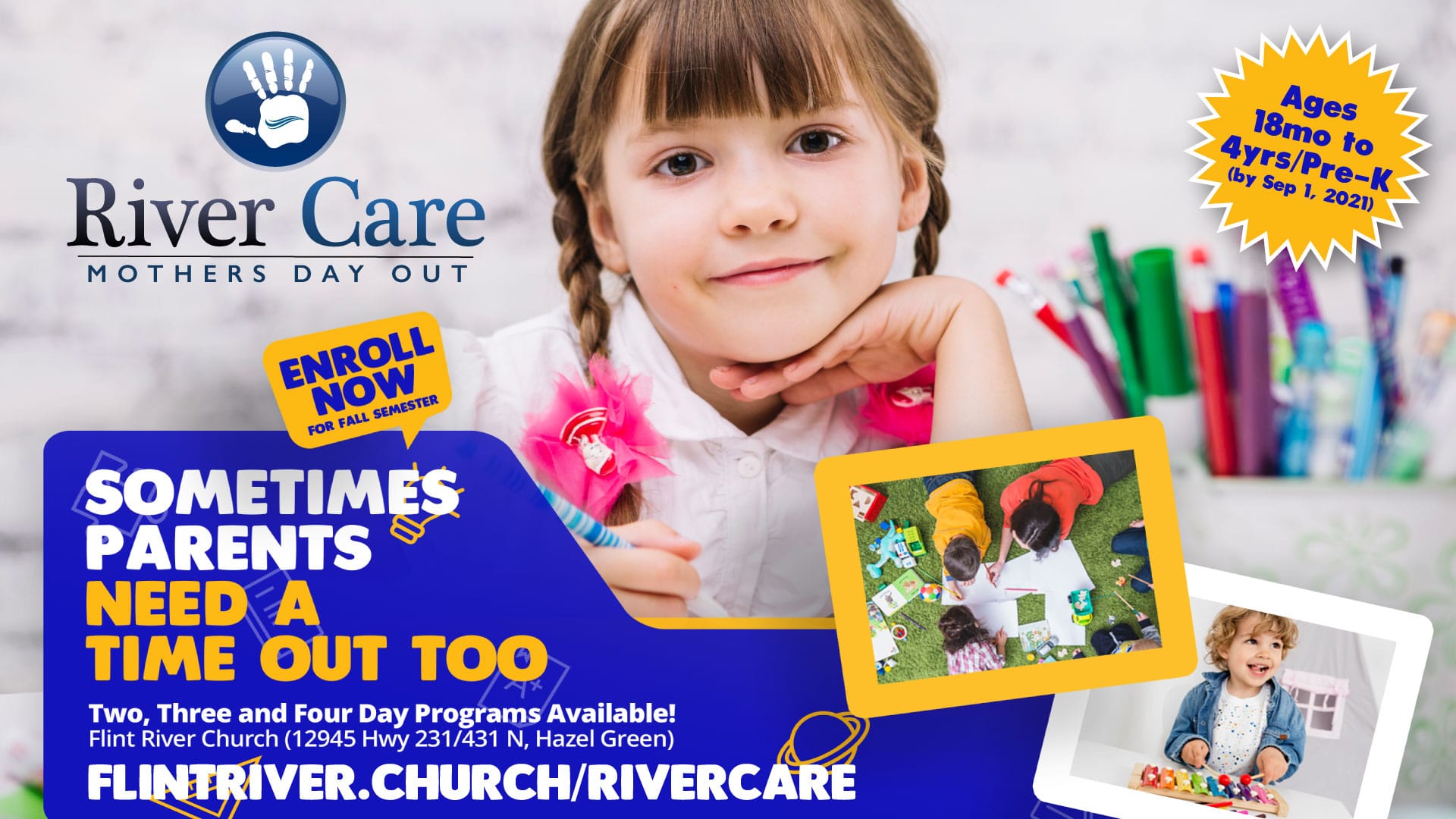 About River Care
River Care exists to provide quality childcare, education, and developmental activities for each child enrolled, encouraging growth and development of the total child—socially, emotionally, physically, intellectually, and spiritually. 
Curriculum: Our goal is to build foundations for literacy, numbers, spiritual growth, the arts, and critical thinking which promote positive attitudes that relate to future school success. Our curriculum includes a Large-Group chapel experience as well as developmentally appropriate Learning Centers. Each Learning Center is designed to channel a preschooler's innate desires to move, create, and explore.
Cost and Next Steps
2022-2023 School Year (registration opens on February 21, 2022)
Two Day a Week Option (Tuesday/Thursday)
Toddlers (Age 18 mos. – 2 years by Sept.1), Class limit is 5
Two Year Olds (must be 2 by Sept. 1), Class limit is 6
Three Year Olds (must by 3 by Sept. 1), Class limit is 8
Three Day a Week Option (Tuesday/Wednesday/Thursday)
Three Year Olds (must by 3 by Sept. 1), Class limit is 8
Four Year Olds // PreK (must be 4 by Sept. 1), Class limit is 10
Four Day a Week Option (Monday-Thursday)
Four Year Olds // PreK (must be 4 by Sept. 1), Class limit is 10
Fees: $75 non-refundable registration fee plus monthly tuition. Two Day program is $160/mo., Three Day program is $210/mo., Four Day Program is $260/mo. per child ($10 discount available for additional children in immediate family).